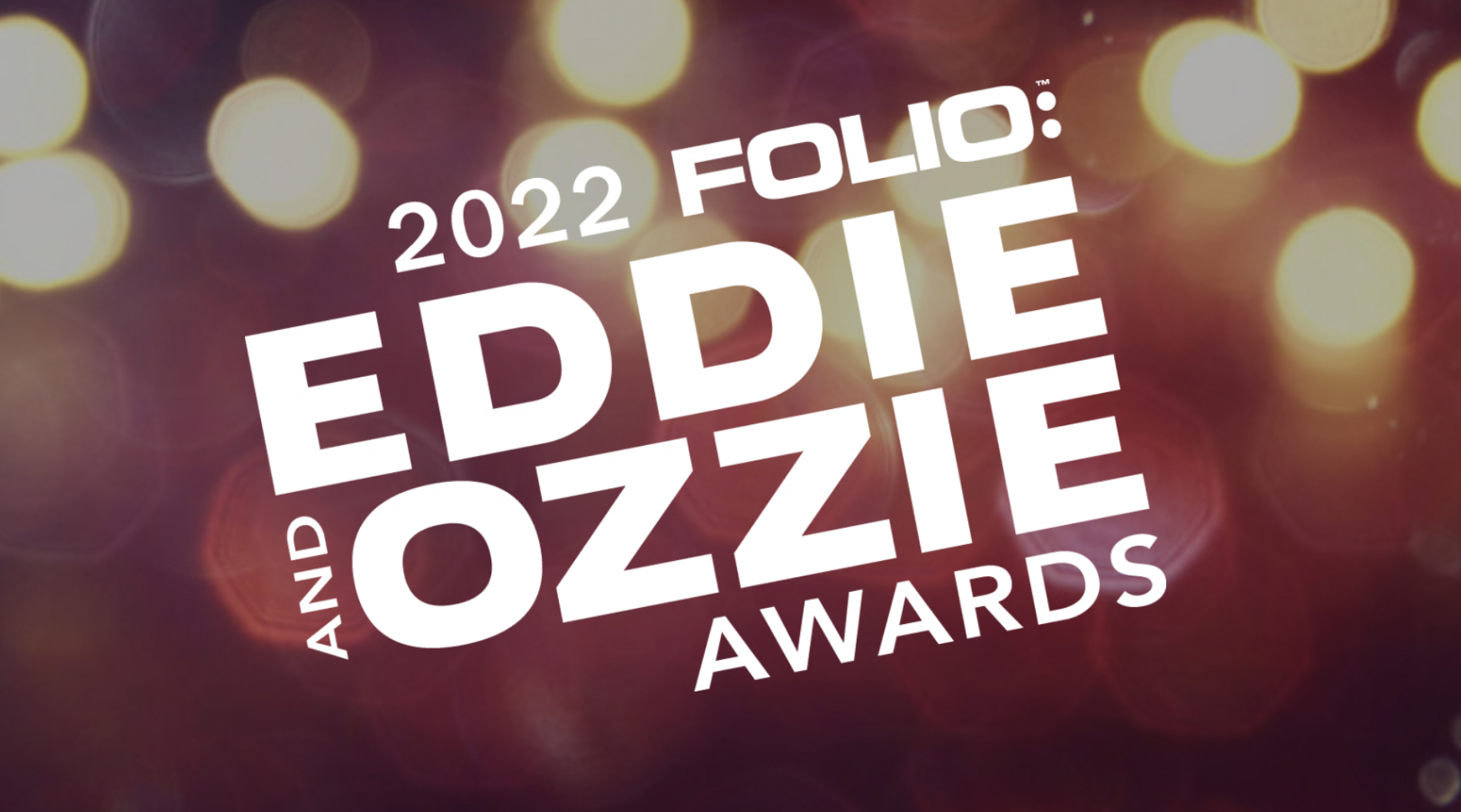 Endeavor Business Media Brands Announced as Folio Eddie and Ozzie Award Finalists
NASHVILLE, TN//August 23, 2022 – 20 of Endeavor Business Media's brands received recognition as 2022 Folio Eddie and Ozzie award finalists. The Folio Eddie and Ozzie Awards are recognized industry-wide in excellence in editorial content and design across print and digital media. We are elated to be chosen as finalists in 25 categories and are very proud of our teams and their hard work.  Winners will be announced at the FOLIO Awards Gala in New York City on September 13.
Congratulations to our brands who are 2022 Eddie and Ozzie award finalists. See full list below.
EDDIES:
Column / Blog B2B – Technology
Briefing Electronic Design
Editorial Use of Data – B2B
FO Trucking by the Numbers−FleetOwner
2022 Market Planning Guide−Electrical Wholesaling
Full Issue – B2B – Special Interest
Security Business Magazine March 2022
Officer.com Magazine September 2021
Full Issue – B2B – Healthcare / Medical / Nursing
Dental Economics January 2022 issue
RDH magazine single issue – December 2022−RDH
Long-Form Feature Content – B2B
Hybrid manufacturing approach breaks down barriers for 'Bionic Kids'−Plastics Machinery & Manufacturing
Profile or Q&A – B2B
MASS Design Group Proves Architecture Is a Catalyst for Social and Environmental Healing−i+s
Full Issue – B2B – Travel / Transportation
Mass Transit magazine April/May 2022
Single Article – B2B – Architecture & Design
What is the Carbon Footprint of Interior Renovations?−BUILDINGS magazine
The Flight 93 National Memorial Honors the Heroes of 9/11 and Helps Heal the Land−BUILDINGS magazine
Investigative Journalism – B2B
BT Intellistop−Bulk Transporter
Single Article – B2B – Overall
Improving Security Posture Post-Pandemic−WaterWorld Magazine
Single Article – B2B – Retail / Manufacturing / Supply Chain
From Gen Z to C-Suite: an Intergenerational Conversation on Innovation−IndustryWeek
Single Article – B2B – Technology
FM Hydrogen−Fleet Maintenance magazine
Single Article – B2B – Travel / Transportation
Data's Effect on GSE Performance−Ground Support Worldwide
Social Media / Online Community – B2B
Social Media: Professional Distributor Facebook−Professional Distributor
Video – B2B
Medical History Mysteries (video series)−DentistryIQ
OZZIES:
Section Design – B2B
PI June 2021 Section−P.I. Process Instrumentation
Cover Design – 25,000 – 100,000 Circulation
PI July/August 2021 Cover−P.I. Process Instrumentation
Cover Design – Above 100,000 Circulation
DE January 2022 Cover−Dental Economics
DE July 2021 Cover−Dental Economics
Overall Art Direction – B2B
Fleet Maintenance AD−Fleet Maintenance magazine
Photography – B2B
FIR September Cover−Firehouse Magazine
Endeavor Business Media
Headquartered in Nashville, Tennessee, Endeavor Business Media was formed in 2017 to acquire and operate business media brands, events and marketing solutions. Today the company is one of the largest B2B Media companies in the US with more than 700 employees, 9,000 customers and a database of over 10 million business professionals.  The company serves business professionals and marketers in key business sectors such as aviation, buildings, construction, dental, electronics, energy, healthcare, manufacturing, networking systems, public safety, transportation, and water. The company has offices in Nashville, TN; Tulsa, OK; Nashua, NH; Birmingham, AL; Sarasota, FL; Skokie, IL; Fort Atkinson, WI; Houston, TX; Independence, OH; Fort Collins, CO, and Overland Park, KS. To learn more, visit www.endeavorbusinessmedia.com.